Floral Facarde [sic] 1995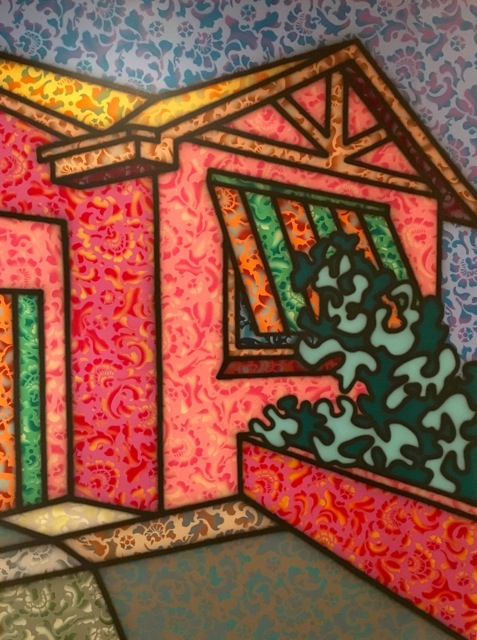 Synthetic polymer paint on canvas, 203 x 153
Signed, dated & titled (on verso)
Private collection, Melbourne
This work is a variant of Spray Veneer (1994), but based on the floral stencil used for Floriated Residence (1994). The correct title and provenance were clarified in November 2016, following correspondence with the Arkley Estate and a meeting with the owner (who also owns other Arkley canvases, acquired prior to 1995).
The vivid, nuanced palette and densely decorative detail mark it as one of the most intensely "Baroque" of the artist's mid 1990s house paintings. The inscribed title exemplifies Arkley's creative approach to spelling.
In the original edition of this catalogue, this canvas was identified, provisionally, as Floriated Address, a painting listed in Arkley's 1993-6 stock-book as with the Bellas Gallery, Brisbane, in 1995. However, that work now appears more likely to have been Floral Exterior (1996) [NGA, Canberra].
Provenance
Commissioned by the present owner directly from the artist in 1995
Noted and reproduced in NGVA Arkley retrospective planning files, 2006